What is the best cat litter you can buy in the market today?
admin
What is the best cat litter you can buy in the market today?
Finding cat litter at every corner of the house can be a headache, especially if there are litter pallets on your bed. Aw, it can be unpleasant. 
The qualities should have in a good cat litter are the pallets can be safe for cat to eat, dust and odor control cat litter, lightweight cat litter, and most importantly easy to clean/dispose. It is a bonus point if the cat litter can be eco-friendly and available in organic cat litter. Tofu cat litter meets all the good qualities of cat litter and it is environment friendly and it does offer organic options. After all Petsolu tofu cat litter can work with most of the cat litter boxes and cat litter mats. The following are the reasons why you should switch to tofu cat litter. 
# 1: Tofu Cat Litter is Dust Free and Odor Control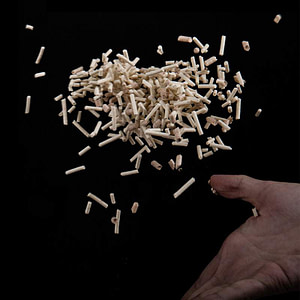 Dust-Free cat litter can be beneficial to you and your cat. With the traditional clay litter, they can release dust and chemical particles in the air. When your cat and yourself inhale the particles in a long period, this may cause serious harm to your health and your cats'. Tofu cat litter is produced from natural and chemical-free ingredients with dust free technology. The pallets neutralize strong odor upon contact with 5 times better odor control than clay litter. There are some added with a unique, refreshing scent to create a pleasant living environment like green tea, peach, and more.
#2: Tofu Cat Litter has Fast Absorbency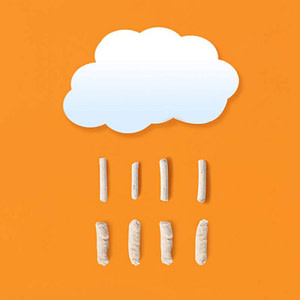 Tofu cat litter is composed of plant-derived particles with quick-drying technology. The cat litter pellets can quickly absorb urine and dry solid waste in seconds. Upon contact, the pallets will create smaller and solid clumps compared to traditional cat litter. Therefore, tofu cat litter can last longer than other cat litters in the market. Now, you don't have to worry about your cat walking around with dirty paws.
#3: Tofu Cat Litter is Lightweight and Long-Lasting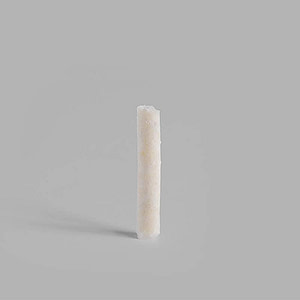 Travelling with a heavy cat litter can no longer be a concern anymore! Tofu cat litter is cat friendly and portable. The litter pallets are created with leading-edge formula from natural soybeans which make it lightweight and easy to store. It can last up to 3 to 4 times longer than the traditional cat litter. Tofu cat litter can save you from the hustle and your wallet will thank you in the long run. 
#4: Tofu Cat Litter is Soft and Gentle for Paws
Say goodbye to the hard and solid clay cat litter. Petsolu Tofu cat litter has an ultra-soft and gentle texture to accommodate their sensitive paws. Your cat will appreciate that!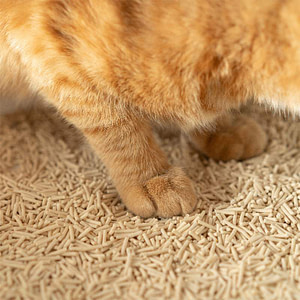 As you can see, with the little pieces of the pallets, they will not be stuck under your cat's paws. It can help to reduce the amounts of litter tracking and will have little to no mess to clean up after. This allows you with more time playing with the cat and less time cleaning.
#5: Tofu Cat Litter is Flushable and Easy-To-Dispose.
Disposing wastes can be way easier with tofu cat litter compared to the traditional cat litter. The special solidification formula in the tofu cat litter has made the clump non-stick and easy to scoop. In addition, the tofu cat litter can be dissolved instantly. You can flush in the toilet, put in your green bin or even use as free fertilizer in your backyard. Quick and easy!
#6: Tofu Cat Litter is environmentally friendly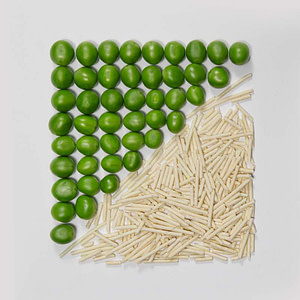 The ingredients used in tofu cat litter is environmentally responsible. Unlike traditional clay cat litter, clay cat litter is made from non-biodegradable materials and which will be its final state after use and unable to break down any further. Tofu cat litter is not only biodegradable, it also produced from a bi-product left over from producing tofu. It utilizes something that would otherwise be in the landfill and repurpose them into cat litter. This has made tofu cat litter as an eco-friendly alternative from the traditional cat litter.
#7: Tofu Cat Litter is Safe to Eat
You may be surprised at how common cats eat cat litter. This can be because they are simply curious about the litter or fulfil their boredom. With Tofu cat litter, it is safe for your cat to swallows the pallets and passes safely through the digestive system since the tofu cat litter pallets are plant-based and the cat litter are made with natural bean curd and biodegradable material with no chemical additives.
Petsolu tofu cat litter pellets are soft on paws and easy for all cats to adapt. However, as we all know, there are cats that like to have a slower transition phrase. We understand this can be a hard decision to switch the existing cat litter to tofu cat litter. So please be patient. You may start with just mixing the existing cat litter with Petsolu tofu cat litter and transition entirely over the course of a few weeks. In this case, it would not cause a sudden shock to the cat. There will be many tries and misses in finding the right natural and organic cat litter, like finding the right cat litter box and cat litter mat.
Petsolu's all nature, dust-free, and lightweight tofu cat litter is safe for cats eating litters and easy to clean and store. This has become the top choice for many cat lovers to embrace the low-waste lifestyle and not add burden on the environment. Now, make the right choice for your cat, people, and the planet and try Petsolu tofu cat litter today, you will enjoy the benefits it can offer to you and your cat!